ROLANDO OCHOA AND HIS FORMULA "8a"
This versatile musical group was founded by Rolando Ochoa in 1988. It has played in many of the local events, parties and weddings throughout the South Florida Area.
Rolando Ochoa was a child star in his native Cuba. Son of two extremely famous Cuban TV personalities when Cuba was free. His parents, Rolando Ochoa Sr. and Pepa Berrio continued their career in the United States and Puerto Rico after leaving Cuba in 1962.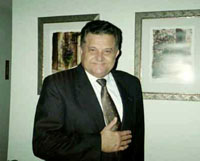 Rolando Ochoa
Rolando Ochoa has become an accomplished singer and musician. He has appeared in various shows and theatre productions in the South Florida Area. Where he has demonstrated his singing and acting abilities.
FORMULA "8a" is a phenomenal dance band with an emphasis in Latin music. Rolando Ochoa has been able to assemble a highly professional team of musicians under the musical direction of the band's arranger, Jorge Moreno. Many of these musicians have performed with other top entertainers.
FORMULA "8a" is considered by many as one of South Florida's top dance bands. Its repertoire consists of not only traditional Latin numbers, but also some of the current hits as well.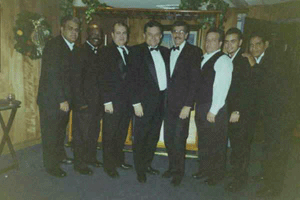 Formula 8a
FORMULA "8a" features four vocalists, each with a different style. Formula "8a" plays a variety of rhythms. Among them: Salsa, Merengue, Cumbia, Guaracha, Son, Cha Cha Cha and many more. These two dimensions, for vocalists and rhythm variety, make each performance a pleasant and uplifting experience for any audience.
FORMULA "8a" also plays traditional American dancing tunes from Jazz to Big Band to 50's Rock & Roll. This added dimension is not easily found in other local bands.
FORMULA "8a" has become one of South Florida's most sought after dance bands for individuals and groups planning a party, a wedding or any other event where good "LIVE" music is a must.
FORMULA "8a" supports and promotes the idea that:
"For a lively party, you must have "LIVE" music"
Last Uppdated February 27, 2004. "Formula 8a" / Copyright © 2002